Photo Mounts: Folder Mounts
Photo Folders or Folder Mounts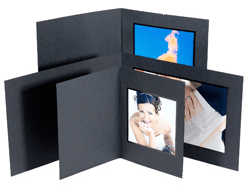 Photo folders, or folder mounts, use a simple slip-in holder backed with a bonded backing to form a card folder. This is a simple but elegant method of displaying photos on their own, or can be used later as a mount for framing by folding the card backing back on itself. Photo folders are available in either portrait or landscape format; unlike strut mounts, the orientation needs to be specified when ordering.
I offer a range of photo folders, which can be purchased with or without prints. If you wish to purchase folders without prints, please see the tabbed frame below, or visit the gallery to choose additional prints to go with your pictures. Please contact me for any special or bespoke requirements.
A complete list of folders, frames and accessories available for immediate purchase can be seen in my shop.
Please note that you must complete all the drop-down boxes in the product frames below before the price for your selection updates properly.
Folder Mount Options