Photo Mounts
Strut Mounts and Print Folders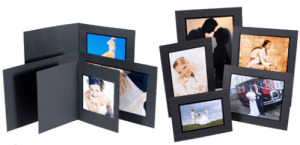 I offer a variety of luxury card photo mounts of both the strut support and folder variety, as may be seen in the picture to the right. Details on each, including the types I offer and pricing, may be found by following the menu links above, or by directly following these links to the pages on strut mounts and folder mounts.
I am happy to offer mounts for sale either separately (without prints), or with the prints produced using your or my digital photos. I am, of course, also happy to offer mounts in combination with digital images produced from my digital colour correction, restoration and portrait services, and would recommend either my photo mount or framing facilities in combination with any such prints (see the menu above for more details).
As mentioned, see my strut mount and folder mount pages for further information on my available photo mount styles and pricing. Also see my guides and price list for a summary of available options. For further information on payment, see my payment methods pages or contact me for more details.
Note that all mounts are supplied without any kind of studio blocking or logos.
A complete list of folders, frames and accessories available for immediate purchase can be seen in my shop.
Folder Mount Options
Strut Mount Options