Aluminium Backing
Display your Work on an Aluminium Gallery Style Backing
Have your prints printed directly onto an aluminium backing rather than presented in a classical picture frame as another fantastic option for optimal display of your work. Aluminium frames, when hung, appear to be 'floating' above your wall, giving a strong, contemporary feel to your image.
The aluminium back can be made in sizes from 3.5″ x 3.5″ to 75″ x 57″ inches using a six-colour process to produce absolutely stunning results in a matte finish. Your print is UV tempered to maximise its lifetime, making it resistant to light and UV. It also makes it resistant to water splashes, so these frames are suitable for use in your bathroom or kitchen, or even in sheltered outdoor environments.
You can choose from a variety of standard picture ratios, ranging from standard image aspects to panorama, square, or even circular. Even better, if your image has an unusual crop, you can request a bespoke size, custom fit to your image.
You can even choose your preferred finish to your image: a direct print on the aluminium base, direct print to brushed a brushed aluminium base, or an original print to a photographic paper backing – see below for more details.
Prices vary considerably depending on size and finish required, from around £650.00 for a 75″ x 57″ back to around £9.00 for a 3.5″ x 3.5″ back, depending on your chosen options. (Note that the maximum printing size is limited by the quality of the supplied digital image; I will evaluate your digital images and advise on maximum print size.)
For a full listing of all products, please see my shop.
Image Options
Direct Print on Aluminium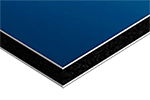 This is the 'classic' aluminium frame, with your image printed directly onto an aluminium base. The final image has a matte, slightly rough look to the print. Tempered for resistance to UV and sunlight, this same finishing process also makes your images resistant to water splashes, perfect for hanging in a kitchen or bathroom.
Direct Print on Brushed Aluminium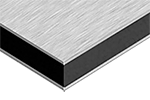 This frame is much like the direct print on aluminium, except the frame is brushed horizontally to leave a deep brushed look to your image. To emphasise this effect, areas of white and other highlights in your image are not printed to let the brushed appearance show through.
Original Photo Print on Aluminium Backing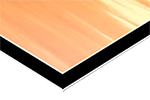 One problem with direct printing to an aluminium back is that this method is not well suited to pictures with large areas of white, greyscale, or black and white images. In these instances, a print can be made on photographic paper medium, which is then directly affixed to an aluminium back and protected with a UV foil, giving a fantastic glossy finish to your work.
Hanging System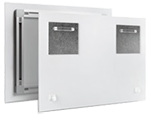 Prints are supplied either with hooks, cylindrical corner spacers or with aluminium rails for larger sizes. The system you are supplied with depends generally on the weight and size of the frame ordered.
You can also, if you prefer, opt for a frame without any kind of hanging system attached, if you prefer to attach your own system or have other intentions for mounting your frame.
Please contact me for more details or to find out the options available to you for your particular requirements.
Notes on Charges and Orders over £150
Please see my guide and price list for standard frame sizes, or contact me if you require a bespoke size. You should also read my payment methods page, taking note that orders over £150.00 will require a deposit of one-third the total value of the item(s) ordered.
Notes on Quality
I use manufacturer ICC colour profiles to prepare your chosen print to optimal quality for printing or setting on aluminium backs, manage the ordering process and organise any samples if required and available for your particular product. Please contact me for details.
Please note that getting your work printed directly or a print set on an aluminium back is a specialist service and by its very nature I am obliged to outsource your work. As such I will only charge for my time preparing your print for optimal quality when printed and any immediately associated costs.
Sending your own Digital Images for Framing
To upload your own digital image(s) for printing and framing, you can either send me your images on CD/ DVD (including any relevent details) or contact me to organise the creation of an upload account; see my client area page for more details on upload and download accounts. You can also email me your images, including all relevent information and contact details.