Acrylic Glass Frames
Display your Work behind Acrylic Glass
Have your prints mounted on an aluminium base. As a fantastic alternative to a classical picture frame, this is then covered with your choice of either an acrylic or resin coating.
Not only does the acrylic give a glossy image with a remarkable depth and intensity of colour, but it also provides a high degree of sunlight and UV protection, as well as splash resistance, meaning you can mount your frame in bathrooms and kitchens, and even in sheltered areas outdoors.
The acrylic fronted frame can be made in sizes from 3.5″ x 3.5″ to 70″ x 48″. Your image is printed either directly on the aluminium base or on photographic pater using a six-colour process to produce absolutely stunning results in a shiny finish. It is then covered with either an acrylic or resin front. Acrylic fronts can be ordered in thicknesses of either 2, 4 or 6 mm.
The choice of finish is of course yours as well. You can choose to have your image printed directly on the aluminium base, or printed to photographic paper that is then affixed directly to the aluminium base, whilst you can also choose whether to have a glossy or matte finish to the acrylic cover itself – see below for more details.
Prices vary considerably depending on size required, from around £700.00 for a 70″ x 48″ to around £15.00 for a 3.5″ x 3.5″ frame, depending on your chosen options. (Note that the maximum printing size is limited by the quality of the supplied digital image; I will evaluate your digital images and advise on maximum print size.)

For a full listing of all products, please see my shop.
Image Options
Direct Print Behind Acrylic
Your image is printed directly to the aluminium base, which gives a slightly rougher, coarser texture to the look of the print. A piece of 2, 4, or 6 mm thick acrylic is then affixed to the top of the print, giving a shiny, reflective finish, with a slightly prismatic effect looking toward the edge of your frame.
Original Photo Print Behind Acrylic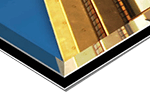 One problem with direct printing directly to the acrylic back is that this method is not always suited to pictures with large areas of white, greyscale or black and white images. In these instances, a print can be made on a photographic paper medium, which is then directly affixed between an aluminium base and 2, 4 or 6 mm thick acrylic glass.
Original Photo Print Behind Matt Acrylic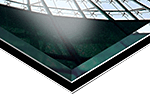 Otherwise identical to the original photo print under acrylic frame, this frame that the shiny, reflective look doesn't suit your image, or perhaps is just not the effect you are looking for. In this instance, a matte finish will take that particular edge off the front of your frame.
Original Photo Print Behind Resin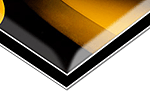 This is the absolute deluxe frame type! Your image is printed to photographic paper, which is then affixed to an aluminium frame. A resin is then poured over the top of your image, leaving it with slightly rounded edges and giving the impression of it being sealed in a glass droplet, bringing out the colour of your image and enhancing its luminosity. (Note that this process is highly labour intensive, and may take up to five weeks to complete.)
Hanging System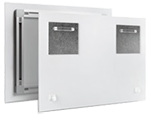 Prints are supplied either with hooks, cylindrical corner spacers or with aluminium rails for larger sizes. The system you are supplied with depends generally on the weight and size of the frame ordered.
You can also, if you prefer, opt for a frame without any kind of hanging system attached, if you prefer to attach your own system or have other intentions for mounting your frame.
Please contact me for more details or to find out the options available to you for your particular requirements.
Notes on Charges and Orders over £150
Please see my guide and price list for standard frame sizes, or contact me if you require a bespoke size. You should also read my payment methods page, taking note that orders over £150.00 will require a deposit of one-third the total value of the item(s) ordered.
Notes on Quality
I use manufacturer ICC colour profiles to prepare your chosen print to optimal quality for printing or setting on aluminium backs, manage the ordering process and organise any samples if required and available for your particular product. Please contact me for details.
Please note that getting your work printed directly or a print set on an acrylic glass is a specialist service and by its very nature I am obliged to outsource your work. As such I will only charge for my time preparing your print for optimal quality when printed and any immediately associated costs.
Sending your own Digital Images for Framing
To upload your own digital image(s) for printing and framing, you can either send me your images on CD/ DVD (including any relevent details) or contact me to organise the creation of an upload account; see my client area page for more details on upload and download accounts. You can also email me your images, including all relevent information and contact details.