Photo Album Design and Builds
Wedding Album Design and Special Occasion Album Design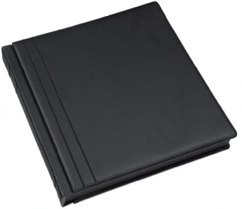 Do you have a CD or DVD of photos from your wedding but either didn't have the option of, or couldn't afford, an album at the time? Do you have a set of photos from a birthday, an anniversary, or other special occasion that you would love to present to that special somebody, in a special way? Do you have a set of prints from your work that you would like to showcase?
My photo album design and building service will allow you to create and build beautiful and unique albums, using your own digital images. Alongside my associated colour correction and printing services, I can help you to achieve just that.
The range of wedding and photo albums available to you extends from coffee table books to bookbound and postbound albums – amongst others – which are available in a range of sizes, cover materials and colours.
Albums can be designed to include album leaves with either card or metal edging and classic or bevelled photo apertures, as suits your preference. All large albums come in their own presentation box and can be offered with a range of accessories such as parent albums, stretched canvas prints, aluminium backed prints, acrylic prints, box frames and classic and contemporary photo frames – I offer many other beautiful accessory gifts for your consideration to tailor to your order to your exact requirements. Please see the associated product links in the menu at the top of this page for more details.
The design process is unique to every album, so prices can vary considerably with requirements. In all cases I will discuss your needs with you and match them to the various options that are available.
Please contact me for your personalised quotes and, if required, full details of my design and build procedure; please also see my guides and price lists and payment methods pages for more information.
How to Send and Receive your Images
A private, password-protected account can be made available for free on request by contacting me in advance to allow you to upload your pictures to my servers, or by filling out the account request form. I aim to have accounts created within two working days. For more details, please see the client area section of the menu.
However, I am also equally happy to send and receive hard copies of your images on CD/ DVD should you prefer this option; if you wish to receive your images on CD/ DVD, there is a handling fee of £3.60. To send your photos, save them to a CD/ DVD and post them to the address on my contact page (including your name, address and email, and optionally a contact number, as well as any additional instructions or notes you might feel are necessary). As above, your pictures should preferably be sent in high-resolution JPEG format (either sRGB or AdobeRGB colourspace and 300 dpi resolution – see the guidance notes button above).
Payment Methods and Orders over £150
For more details of costs and other requirements, please see my guides and price lists page; for further information on payment, please also see my payment methods page, or contact me for further details.
Please note that bespoke orders over £150.00 will generally require an initial deposit of one-third the total value of the order before any work is undertaken. My album construction service can be paid for immediately if you wish; if you would prefer an initial (one-third total value) invoice and quote, please contact me as for a bespoke order.