Digital Photo Print Restoration
Repair and Restore your old Printed Photos to Digital Format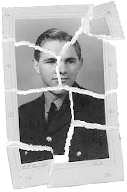 To get back your treasured memories, I can repair tears, creases, bend marks, coffee cup rings and other defects that may have built up over time on your older (or even newer) printed photos.
Even if your old prints have been framed, over time they may have faded or discoloured from exposure to sunlight, leaving your print looking yellowish and lacking in contrast.
In combination with my print scanning service, I can restructure many types of physical defects in your printed photos for presentation on CD/ DVD or by creating a private account for you on my upload and download area.
Of course, my print and presentation options complement this option perfectly should you wish to enhance the presentation of your restored print.
Notes on Print Recovery
A note of caution – the likelihood of being able to fully restore a print is dependent on the extent and severity of damage that has occurred. Whilst I am happy to try to recover any type of damage, I can't guarantee that I will be able to do so in every conceivable scenario. I will assess your photos when I receive them and advise you in this regard.
However, if I can't get your prints back, I can at least guarantee that there will be no risk to you – for this service, I work on a no recover, no fee basis. Successful recoveries are charged at £6.00 per image.
Further Notes
If you are interested in this service, note that you can obtain a free download account through this website either by contacting me directly or by filling out the account request form. to retrieve your digital images at your convenience. Please also see my guides and price lists and payment methods pages, or contact me for more details.
How to Send and Receive your Images
A private, password-protected account can be made available for free on request by contacting me in advance to allow you to upload your pictures to my servers, or by filling out the account request form. I aim to have accounts created within two working days. For more details, please see the client area section of the menu.
However, I am also equally happy to send and receive hard copies of your images on CD/ DVD should you prefer this option; if you wish to receive your images on CD/ DVD, there is a handling fee of £3.60. To send your photos, save them to a CD/ DVD and post them to the address on my contact page (including your name, address and email, and optionally a contact number, as well as any additional instructions or notes you might feel are necessary). As above, your pictures should preferably be sent in high-resolution JPEG format (either sRGB or AdobeRGB colourspace and 300 dpi resolution – see the guidance notes button above).
For more details of costs and other requirements, please see my guides and price lists page; for further information on payment, please also see my payment methods page, or contact me for further details.