Photo Printing Papers and Media
Fine Art Media and Inkjet Papers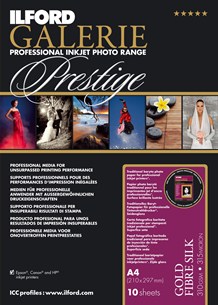 I use a range of fine art media and inkjet papers to achieve professional print results from my Epson R3000 eight-colour pigment-based inkjet printer.
All my work for you is ICC profiled to the paper manufacturers' standards to produce the closest, most vibrant match of colours for your digital images. I usually use papers of at least 260 gsm, for example for purposes such as framing, but will usually use heavier papers of around 310 gsm for prints and photographs unless otherwise requested.
I use Ilford media and Epson inkjet papers (depending on format availability with our printers) to achieve the highest quality results, including the Ilford Galerie Prestige and Galerie Premium fine art media and Epson Inkjet papers in sizes up to A3+, though I am happy to outsource for larger or metallic prints if required.
If you require any other paper (Hahnemühle, Fotospeed, archival papers, etc), please contact me to discuss your needs and I will do my utmost to oblige.
There are several types of paper available, and I strongly encourage you to read the information on the Ilford Galerie links above to find out more details. However, the generally available media types can be summarised quickly as:
Baryta – uses a traditional fibre base and barium sulphate whitener to produce the classical feel of a traditional photograph e.g., Ilford Galerie Prestige Gold Fibre Silk.
Gloss – the paper is finished with a high reflectivity gloss coat, to produce a particularly shiny finish to your prints and images e.g., Ilford Galerie Prestige Smooth Gloss.
Pearl – variously called satin or semi-gloss, the paper is finished with a medium reflectivity coat that is particularly favoured for portrait photographs and images (e.g., Ilford Galerie Prestige Smooth Pearl.
Matt – the paper is finished with a matt coating, which produces a particularly attractive finish for portrait photographs and images e.g., Ilford Galerie Premium Heavywieght Matt.
Metallic – the paper has a metallic finish and produces a great contemporary look for your images, particularly when used in albums, though it can add considerably to final costs.