Photo Printing Hardware
Professional Inkjet Printing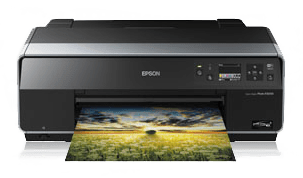 I use professional inkjet printers, namely the Epson Stylus Photo R3000, with high quality papers and media to produce your images.
This printer will accept a variety of inkjet and fine art media in sheet and roll format. It can produce professional level results with its eight-colour printing system. It uses is Epson's UltraChrome K3 ink set with vivid magenta, which is pigment based. It can employ either a photo or matte black, as is best for either colour or true black and white images.
I always use manufacturers' custom-built ICC profiles to produce the incredible results this printer is capable of, so whatever media you might choose to print on, you can be sure your image has been printed at its very best.
Typically, print lifetimes using a combination of UltraChrome inks and fine art or inkjet papers can extend from several decades to well over one hundred years, depending on display method.
This printer has a dedicated fine art loading tray to keep a straight paper path for your fine art media; please see my fine art media and inkjet paper guide for more information on your possible choices of media for your prints. For single sheets, the R3000 print size is limited to A3+ (19″ x 13″) but it is possible to print wide format prints of up to 44″ on the long edge using paper rolls.
Should you require printed CDs or DVDs, the R3000 has a dedicated CD/ DVD printing tray, and I am happy to print batches of printable optical media with your choice of design or digital image, as per your requirements.
For printing digital images, my media and papers of preference are the Ilford Gallerie Prestige and Gallerie Premium fine art media and Epson Inkjet paper ranges. Of course, if you have any special requirements or bespoke requests regarding media or have any questions, please feel free to contact me to discuss your needs. Further details can also be found in my fine art media and inkjet paper guide.